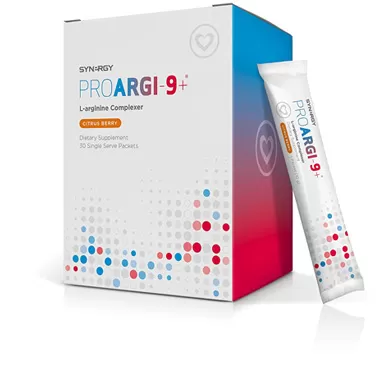 ProArgi-9+ is a unique clinically proven supplement with far-reaching health benefits and offers powerful support for the cardiovascular system. With ProArgi-9+, you're giving your body the support necessary for a long, healthy life.
Pro argi-9+ has once again been entered not the Physicians' Desk Reference, where it states the 'ProArgi-9+ is the highest quality l-arginine supplement in the world. ProArgi-9+ has been formulated by an experienced team of cardiovascular and medical research specialists.
Along with cardio vascular disease, there is now evidence that ProArgi-9+ may also help improve our:
microbiome
immune function
energy levels
build muscle and reduce adipose tissue body fat
help reduce diabetes
improve erectile dysfunction and prostrate function
renal function
reduce brain fog and headaches
cold feet and hands
plus many more health conditions related to poor blood flow.
Listen to some of the testimonies and read 22 Reasons to try Pro Arginine
ProArgi-9+ is also ideal for athletes. Read more here.
One serving of ProArgi-9+ contains 5,000 mg (5 grams) of pharmaceutical grade L-arginine.
Pro argi-9+ is also a part of the Purify Programme and the V3 (Vital 3 System) along with Mistify and Phytolife. Click on the V3 button to hear how together they support your immune system.
Key ingredients
Proprietary blend: L-arginine, citric acid, malic Acid, pomegranate fruit powder, citrus blend natural flavour, L-citrulline, silicon dioxide, D-ribose, colouring: grapeskin extract, vitamin C (ascorbic acid), sweetener: stevia, vitamin D3 (cholecalciferol), vitamin B6 (pyridoxine hydrochloride), vitamin B12 (cyanocobalamin). red wine extract (resveratrol), folic acid, vitamin K2 (menaquinone)
If you would like to have more information about Pro Argi-9+ and how best to take it contact Helen
To order Pro Argi-9+ click here

Prosper With Synergy offers Pro Argi-9+ as well as other nutritional products in East Sussex, including Eastbourne, Hastings, Uckfield, Brighton and Lewes, West Sussex, Kent and throughout the UK.
To find out more about Helen's other work go to www.helenprosper.com and www.atouchofgentleness.org