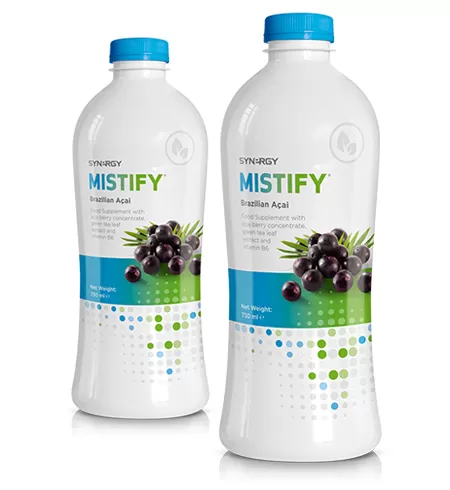 Mistify is a drink packed full of tropical goodness and is a highly antioxidant berry juice supplement. It is a stand alone product and also part of the V3 (Vital 3 System) along with Pro argi-9+ and Phytolife. Click on the V3 button to hear how together they support your immune system.
Take daily to enhance your vitality, boost your immune system, reduce inflammation, increase your energy levels and enhance your mental focus
Mistify is also ideal for athletes. Read more here

Benefits of Mistify
Protects from free radical damage – 43% reduction in 3 weeks
Reduction in the ageing process of the skin
Significant improvement in oxidative damage
Supports the immune system
Natural anti-inflammatory and pain suppressant
Protects the cellular membrane and DNA
Supports cardio and digestive tract health
Ingredients
Acai berry, elderberry, pomegranate, blueberry, green tea, goji berry, raspberry, grape seed extract and cranberry.

Synergy Mistify Facts
30ml of Mistify provides the antioxidant protection of 3.5kg of fruit
Acai berry has the highest protection value against free radicals ever recorded in a fruit
High in fibre
Generous amounts of vitamins and minerals, including calcium, magnesium and zinc
Take 30ml (2 tbs) once or twice a day
Mistify should be part of a varied and balanced diet and a healthy lifestyle
If you would like to have more information about Mistify and how best to take it
contact Helen
To order Mistify click here

Prosper With Synergy offers Mistify as well as other nutritional products in East Sussex, including Eastbourne, Hastings, Uckfield, Brighton and Lewes, West Sussex, Kent and throughout the UK.
To find out more about Helen's other work go to www.helenprosper.com and www.atouchofgentleness.org