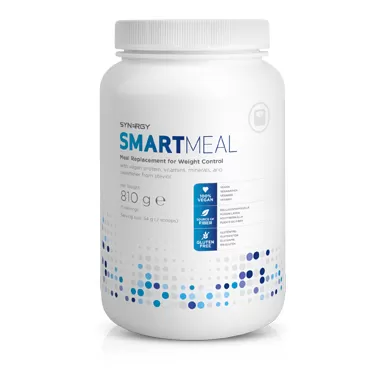 Whether you are always on-the-go, trying to manage your weight, a sport enthusiast or just want a healthy meal option, the SmartMeal shake can help. With 24 grams of protein and 24 different vitamins and minerals this meal replacement shake is low in sugar, vegan, Non GMO, free from gluten and dairy.

Additionally, with its eco-friendly packaging and a petroleum free container you are consciously caring both for your body and thinking about our planet.
A delicious vanilla shake packed with high quality ingredients.
Whether you are wanting to support a healthy lifestyle, achieve your desired weight, or support your fitness training Smartmeal is designed to give you the nutrition you will need.
Benefits of the Smartmeal Shake
Supports an energy yielding metabolism
Helps reduce feelings of tiredness and fatigue
Supports the growth and maintenance of muscle mass
A healthy and effective way to manage your weight
Supports normal Immune Function
Supports normal homocysteine metabolism (important to cardio vascular health)
Supports normal protein and glycogen metabolism
Provides 24 vitamins and minerals
Provides 24 grams of blended proteins (pea, chickpea, and rice protein to give a balanced amino acid profile).
Provides 3g of quality source fibre
Provides an economical, quick, easy, and on the go nutritious meal
Can be used a snack supplement to support sports training
SmartMeal also forms part of the; Wellness pack, Sports Nutrition Pack and the Weight Management Pack. For more information on these go to packs

To read all about Smartmeal click here.

If you would like to have more information about Smartmeal and how best to take it contact Helen

To order SmartMeal click here

Prosper With Synergy offers SmartMeal as well as other nutritional products in East Sussex, including Eastbourne, Hastings, Uckfield, Brighton and Lewes, West Sussex, Kent and throughout the UK.
To find out more about Helen's other work go to www.helenprosper.com and www.atouchofgentleness.org