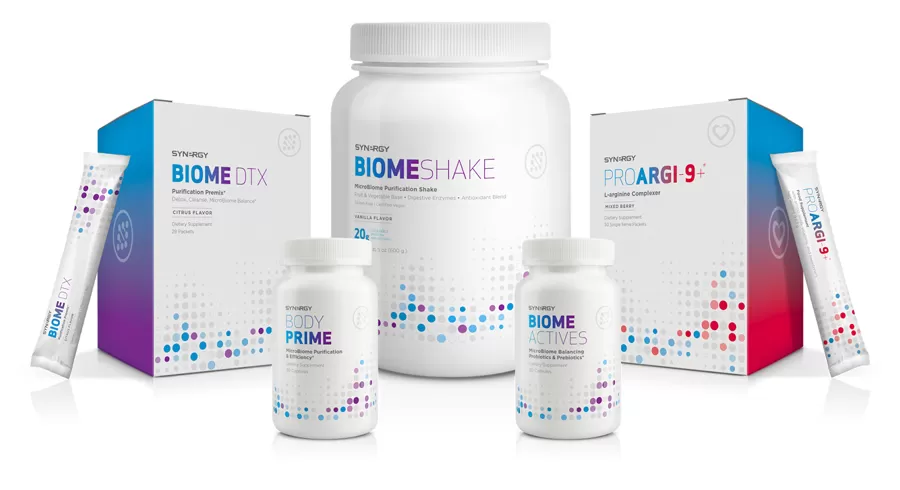 Targeting the core of your health Synergy's Microbiome Purify Kit has been scientifically formulated to help heal the gut supporting optimum health.
It not only cleanses and detoxes the body but also helps heal the gut and re-balance our microbiome. It is part of Synergy's Health Supplement range.
Benefits of Synergy's Microbiome Kit may Include
Improved digestion with no bloating
Weight loss
An Increase in energy levels
Better sleep
Reduced Cravings
Reduced aches and pains
Feelings of calmness
Click here to hear people's extraordinary stories!


Look After Your Gut
The gut is the hub to all of our systems and its health affects your immune system, mood, your ability to lose weight, digestion and much, much more. So getting the gut microbes into balance is the first step towards achieving elite health and solving health issues from the root cause.
Watch this short video to find out more.
Kit Products (5)
ProArgi-9+ relaxes and widens the arteries, enabling the body to access deeply held toxins in stagnant areas of the body. It also helps remove ammonia. Download Info
Biome DT is an innovative dietary supplement with zinc, glutamine, psyllium, plant extracts and seeds. It is high in chlorophyll and helps the body to come out of an acidic state into an alkaline state. Bad bacteria, candida, fungi and parasites reduce when the body is alkaline, as they prefer to live in an acidic body. Biome DT also helps your body to remove heavy metals such as arsenic, lead and mercury. Download Info
Biome Shake is made from a pea protein and is very filling. Within it is inulin, made from chicory root, which is a pre-biotic. These fermentable fibres create the right environment in the gut for good bacteria to flourish. Download Info
Biome Actives contain pre and probiotics, which are the good bacteria to put into your body and populate the gut. The spore called bacillus coagulans is very robust and can survive in your stomach acid and even cooking at high temperatures. Download Info
Body Prime is a magnesium capsule with apple pectin and prune powder. Your body is often deficient in magnesium and this helps with energy levels and cardio vascular health. Body Prime is formulated to help lubricate the bowels allowing toxins to move out of the body easily. Download Info
Microbiome Kit Facts
21 day programme
Remarkable results from the programme listen here
Cutting edge science
All of the products in the kit may also be purchased individually.
If you would like to have more information about the Purify kit and how best to take it
contact Helen
To order the Purify Kit click here

Prosper With Synergy offers the Purify Kit as well as other nutritional products in East Sussex, including Eastbourne, Hastings, Uckfield, Brighton and Lewes, West Sussex, Kent and throughout the UK.
To find out more about Helen's other work go to www.helenprosper.com and www.atouchofgentleness.org